Liam Coffey: Living in the Barracks, 1940s
LIAM COFFEY'S MEMORIES: Living in the Barracks.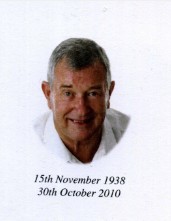 We lived for a short time in a flat in the Red House in the Barracks before moving to No 4 Liffey Terrace a few doors down. The Red House was divided into four self-contained flats (two up and two down). We lived on the ground floor opposite Eugene Hanly and his family, We had moved from private rented accommodation in Charlotte Street because rent was cheaper and it was seen as a stepping stone to getting a house. The houses and flats were all administered by the Town Commissioners, and when old Mrs Bragg died we moved into her house. Liffey Terrace, opposite Eddie O'Connor's shop, consisted of 12 terraced two-storied houses which were traditional two up and two down, with a small railed garden to the rear as well as an allocated space on the back with a fixed clothes line. The whole estate had formed part of the British military base, so the houses and flats were well built but dated. However, they were ideally located for young growing families, and as they were maintained by the Town Commissioners they were easy to run.
(Photo of Red Hall, (C) Vincent Brady, 1978) 
No 5 to No 12 were allocated garden plots directly across the road from their front doors and these plots were always cultivated and provided a variety of vegetables and fruit. We did not have a plot, but to my undying shame these plots, as well as the Technical School gardens (which adjoined these plots) as well as the plots beside Ryston and every other garden, orchard, etc in the town, provided me with an endless supply of whatever was in season, not to mention Charlie Maguire's green grocery delivery truck! Surprise to say that in my more responsible mature years, I did try to make amends by some means or other, known only to myself.
The Dolan family lived in No 5 Liffey Terrace, and our kitchen windows looked straight into each other. Privacy wasn't a big thing, and we couldn't have asked for better neighbours. How they put up with us all those years can only be explained by their great sense of fun and endless good humour, qualities that my parents had in abundance. With hindsight, I can see that these qualities were an essential part of our survival and helped to lighten the load through good times and bad. It is fair to say that life back then was lived on a day to day basis, and in general people were very philosophical. Enjoy the good times and do the best you can in difficult times – no point wasting time worrying – God looks after His own.
Our neighbours in No 3 were the Cox family, and as they were all adults when we moved in we did not develop any real close relationships. Suffice it to say that having lived beside a retiring old lady for years, it must have been some culture shock for them when our gang moved in! In fairness to them, they never complained and seemed possibly to enjoy the action next door. We spent ten very happy years in this little house and when we finally moved on in 1952 we never again enjoyed the same level of familiarity and belonging.
Noones lived in the first house, No 1 Liffey Terrace. Their father, Michael, sang in musicals and operettas produced by Dr Cuypers, a Belgian national employed as music teacher and organist in Newbridge College. I can still remember a photograph of Mr Noone proudly displayed on the wall of his barber's shop beside Coffey's pub showing him as he appeared as Dick Deadeye, complete with black eye patch and sailor's suit.
The Doody family also lived on Liffey Terrace. Both Mr Doody and Eileen were members of the choir and loved to sing duets. Liffey Terrace was also home to Tommy and Margie Nolan. Marge was a beautiful singer, and her grand-daughter, Lorraine Nolan, not only looks like her but has inherited her beautiful singing voice. The Scanlan family also lived there. Jim and Patsy (brothers of Jack Scanlan who lived in the Crescent) were classical violinists, and Patsy earned his living teaching violin.The Timmons family lived in and around the corner. Mrs Timmons was an accomplished pianist.
Moving along to St Patrick's Terrace (the Verandas) were the Harrigans. Frank Harrigan possessed a beautiful tenor voice, and all his daughters inherited his talent for singing. His eldest daughter, Marie, was the star of every Pantomime and concert she appeared in, and was lead vocalist with Jim Dunny's band for much of the band's best years. She was also a leading member of the Parish Choir. One memory I have of Marie as a singer was hearing her sing in harmony with Bridie Lavelle (nee Barry) at Christmas Midnight Mass. Their rendition of 'O Holy Night' was absolutely amazing. I can still hear their voices soaring to the heavens in an effortless magnificent duet and I can honestly say, in my opinion, it was only ever surpassed by Leontyne Price (the American soprano). It's no exaggeration to their performance was world class. Francis Kehoe (nee Harrigan) was also a renowned singer, as was Pauline Fay (nee Harrigan).
Not far from the Harrigans lived Kathleen Fitzpatrick. Kathleen was a starlet of the Pantomime troupe and a great singer. Just around the corner on the way out of the Barracks lived Brid O'Connor's family (nee Buckley). Brid also starred in various roles in the Pantomime too. So you can see, in such a short walk around the Barracks we find a multitude of musical talent. John Timmons played the saxophone in Bobby Rogers Band. Sonny Dunne played Fife in the Town Band, and my sister, Patty, played Little Red Riding Hood in a Pantomime in the 1950s. Frank Grogan was one of the singing stars of our school musical, 'Once Aboard the Lugger' in April 1951. Michael O'Brien (father of Ray,etc) played the mandolin and banjo. If you strolled through the Barracks you could find yourself listening to an aria from Gilbert & Sullivan, a duet from 'Marietta', a song from 'The Wizard of Oz', a nocturne from Chopin, and a fabulous rendering of Ave Maria. We had music everywhere. Messenger boys, postmen and delivery men all could be heard whistling before coming into view. Some whistlers like Benny Barrow, first cousin of Eugene Hanly could out do Ronnie Reynard. Everyone enjoyed singing, even though some were not quite ready for public performances.
Liam Coffey (C) 2008.