Mary Fitzsimons: Growing up in Newbridge in the 1940s and 1950s.
Mary Fitzsimons (nee Nolan): Living on Main Street and in Moore Park, 1940s and 1950s.
Newbridge, a great town to grow up in!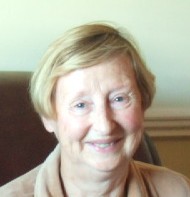 I was born in 20 Main St, during WW2. It was a large house rented by my father, who taught in Newbridge College. Most people lived in rented accommodation, which was scarce and very often unsuitable. The house we rented was too large for our needs – big reception rooms, fireplaces in all rooms, hard to heat and keep. I well remember scraping the frost off the inside of windows in the winter.
My father rented a 'plot' on the bog and 'saved' the turf himself, as did many white collar workers. The annual delivery of turf by horse and cart was an exciting event for us children. Dad also rented a 'plot' (allotment) in a field at the top of the town, on the side road at the Irish Ropes factory. He grew basic vegetables, cabbages, turnips. My sex education was your brother and yourself were found under a cabbage in the plots, and we believed it for years!! I also remember he used to wear his oldest clothes while working in the' plot', so pockets being full of holes he used to put his loose change in a spare gardening sock. When he came home he'd shake the money out and tell me he'd dug it up in the plot. A story I also firmly believed but which backfired a little on him, as when I wanted something we couldn't afford (which was nearly everything; people had no money in those days) I'd tell him to go and dig it up in the 'plot', the goldmine at the top of the town!!
The rear windows of 20 Main St overlooked the back yard of Herterich's Pork Butchers. The pigs were slaughtered in the yard and I'm ashamed to say we would ask our friends in to view the horrible event; no humane killers in those days.
Our immediate neighbours going up the town were Guiney's Drapery, relations of the famous Dublin Guineys. Next, 'The Dairy' run by Daisy Stafford, where you left your billy can to be filled with milk. Above that was Mrs Corrigan, a widow with four daughters. A gifted seamstress, with her eldest daughter, Eileen, she 'turned' my mother's old coats into ones for me. They did a fantastic business; everything was recycled then.
Going down the street, next door was John Kelly's butcher shop, with big old style wooden tables, meat hanging openly on hooks. Then there was Roly Ives, the barber; Kearn's drapery and sweet shop, and Mr Roche, the cobbler, who gave us lots of bits of leather to set up our 'play shop'. All these neighbours treated us kids with humour and patience.
20 Main St was opposite the guard's barracks. My father spent many an hour chatting with the kindly (and not overworked) guards; Kirwan, Bradley, Jackson, Keogh, Lalor and Magee. All of them, except Guard Magee, lived in Artillery Place, and produced large families of the finest looking lads and lassies. Dad used to tell a funny story about the day Guard Kirwan (I think) set off on his bike to investigate a case of stolen onions in a certain part of town. The onions were duly recovered and he called to another house to investigate another matter. When he came out, bike and onions were gone, stolen. The town talked about it for weeks – shocking!!

Books during the war years were a luxury. Dad needed them for school, and second-hand bookshops in Dublin were his only hope. A bus went occasionally, and if two cars a day passed through town it would be regarded as 'heavy traffic'. However, the guards came to his rescue, stopping that odd car and explaining that 'Professor Nolan' (as they called him) needed to get books in Dublin. Problem solved. I forgot to ask how he got home again.
We moved to Moore Park in January 1952, with the snow on the ground. I remember my mother walking up there with an alarm clock in her hand, timing the walk – it took 20 minutes to get there. We had to walk that route everyday to school. There were two forges along the route, and on the way home from school we loved to stop to watch what was going on.